Latest News About David Gahan Solo Work
April 9 th 2003

News about Dirty Sticky Floor single
On Halo's forum was announced by Maxx from www.dmfan.ru forum the details of the tracklisting of the new single :

01 - Dirty Sticky Floors (3:32)
02 - Stand Up (5:28)
03 - Maybe (4:51)
The Lyrics from Paper Monsters have also been transcripted and announced on Halo's forum by Pete²/Rush as well as some other fans
March 28 th 2003
News about Paris concerts
As announced here previously , a second date has been added in Paris, on July 5th 2003 you can order now your tickets at http://www.olympiahall.com
March 22 th 2003
News about the shooting of the video for "Dirty Sticky Floor"
Seen on the DMMB from BRAT :
After getting the required two hours of sleep, and putting up Martin's tour dates on his site, I sped down the 101 (a joke - traffic was quite heavy) for a 7:30 am call time for the video shoot. The video shoot for the first single from David's forthcoming solo release, "Paper Monsters".

If you were in Malibu yesterday, driving down P.C.H., saw a big film crew (there were actually three in Malibu yesterday), and heard David's first single, then you were near El Matador State Beach (32100 PCH, Malibu). I got to the location at 8 am (Mustangs go fast, but not when there is traffic).

When I got there, David was getting ready to do down to the beach (a true hike, which, by the end of the day, proved to be the main reason I am typing this while in deep muscle pain, and a nice lobster red sunburn). Hours of shooting was done on the beach (which I captured for future site use - video and images). Later, towards the end of the shoot, the final shot was more "performance" based.

I can not really give details now, but what I saw the director(s) shoot yesterday should make for a very good video. The camera angles, and the acting/performance from David was spot-on.

BRAT

The directors names are still unknown and all was shoot then on March 20th 2003.
March 20 th 2003
Two new additional dates have been added to David Gahan Tour in Europe :
- July 13th UK Wolverhampton Civic Hall
- July 5th France Paris Olympia
The french radio Europe 2 has already started to announce this additional dates, the tickets will be soon on-sale
---
Here are some new additional links to websites dedicated to David Gahan (except the first which is the official one ) :





March 10 th 2003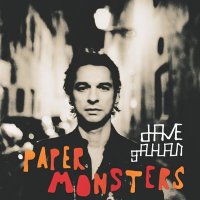 At least and now revelaed on the internet by a Greek website (Synthpopavenue) the full tracklist of Paper Monsters !
Go the album sections - Paper Monsters to see it !
March 8 th 2003

©Davegahan.com

Here is the cover of the "Paper Monsters" album, picture by Anton Corbijn , revealed by the official website lately.
You will also find there a video greeting by David Gahan.
www.davegahan.com
For more infos about the album tracks go to the ALBUMS section - Paper Monsters
For infos about David gahan Tour go to February 2003 News

---

here is the Tour Poster revealed in a german website : http://www.mlk.com/artist.html?Id=89

---

Here is an article from french label who distributes Mute in France:

28/02/2003 : DAVE GAHAN revient en solo

Après 22 ans passés aux côtés de DEPECHE MODE, DAVE GAHAN se lance dans une carrière solo. Son premier album solo, 'Paper Monsters', sera disponible dès le 3 juin prochain, précédé deux semaines plus tôt du single 'Dirty Sticky Floors'.

DAVE a écrit les dix titres, avec l'aide de son ami multi-instrumentaliste KNOX CHANDLER. Produit par KEN THOMAS (SIGUR ROS), 'Paper Monsters' a été enregistré en grande partie à New York, et constitue une toute nouvelle expérience pour DAVE : "Ce qui m'a le plus frappé, c'est à quel point ça m'a rendu joyeux et comblé", raconte Dave avec un sourire. "J'avais envie d'entendre quelque chose qui rende heureux. C'était ma priorité et Ken m'a totalement compris là-dessus." Au programme également : une tournée européenne à partir du 5 juin, puis une tournée aux Etats-Unis pour le reste de l'été. DAVE sera à Paris (Olympia) le 4 juillet, puis le 6 aux Eurockéennes de Belfort.

> Aller sur la page de DEPECHE MODE

Source : Labels
Read the news from February 2003