July 8th 2003:
French concerts of July 4 & 5th in Paris-Olympia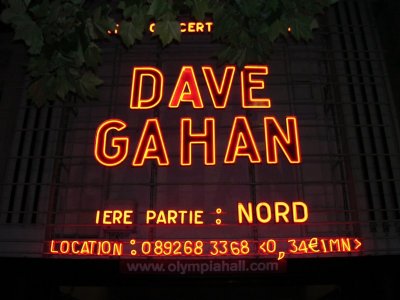 photo by Stumm
Here is the Paris setlist :
1. Hidden Houses
2. Hold on
3. Dirty Sticky Floors
4. A Question Of Time
5. Bitter Apple
6. Black & Blue Again
7. Stay
8. A Little Piece
9. Walking In My Shoes
10. I Need You
11. Bottle Living
12. Personal Jesus
13. Goodbye
--------------------
14. I feel you
15. Never Let Me Down Again
--------------------
16. Policy of Truth (acoustic)
17. Enjoy the silence (acoustic)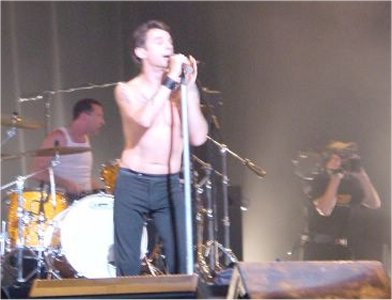 photo by Marcel de Groot
The Band that started was a french rock band called Nord with nice music, that was quite well received by the audience.
Two fantastic concerts, Dave was in a really good shape and good mood and the songs from Paper Monsters and Depeche Mode were really kicking ass in live. The second night was filmed completly by french music channel MCM and played live , also broadcast live by french rock radio station OUI FM.

I will most of all keep a great souvenir of the 1st night because I was close to the stage and for the wonderfull performance of Dave and seeing how happy and fullfilled he looks now. His performance was really good and I was amazed by the way the songs of PM sound live.
thanks to all my friends and of course my girlfriend with who I shared this precious moment and thanks to Dave & his band for that wonderfull concerts.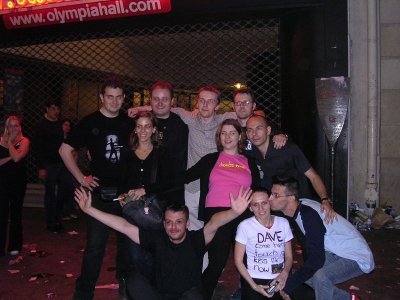 Some friends, my girl-friend and I ( not in the right order) in front of the Olympia / photo by Stumm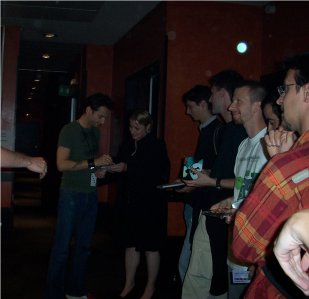 Backstage meeting with Dave before 1st Paris concert / photo by Perrine/Puce576